Download Instagram Reels Video online to your device.
How Instagram Downloader Works?
An Instagram downloader is a tool or software that allows you to download Reels, Videos and Photos from Instagram by simply entering the Link/Url of the content you want to download.
Here's a quick detailed and easy way to do it:
Find the Instagram Reel or Video that you want to download.
Copy the URL of the video: You can do this by tapping the three dots in the bottom right corner of the video and then selecting "Copy Link" option.
Go to a website: "https://reelsave.app".
Paste the URL/Link into the input field and click "Downloads Icon".
Wait for the video file to be processed and then click on the "Download Video" button to save reels video file to your device.
Reelsave.App: Why?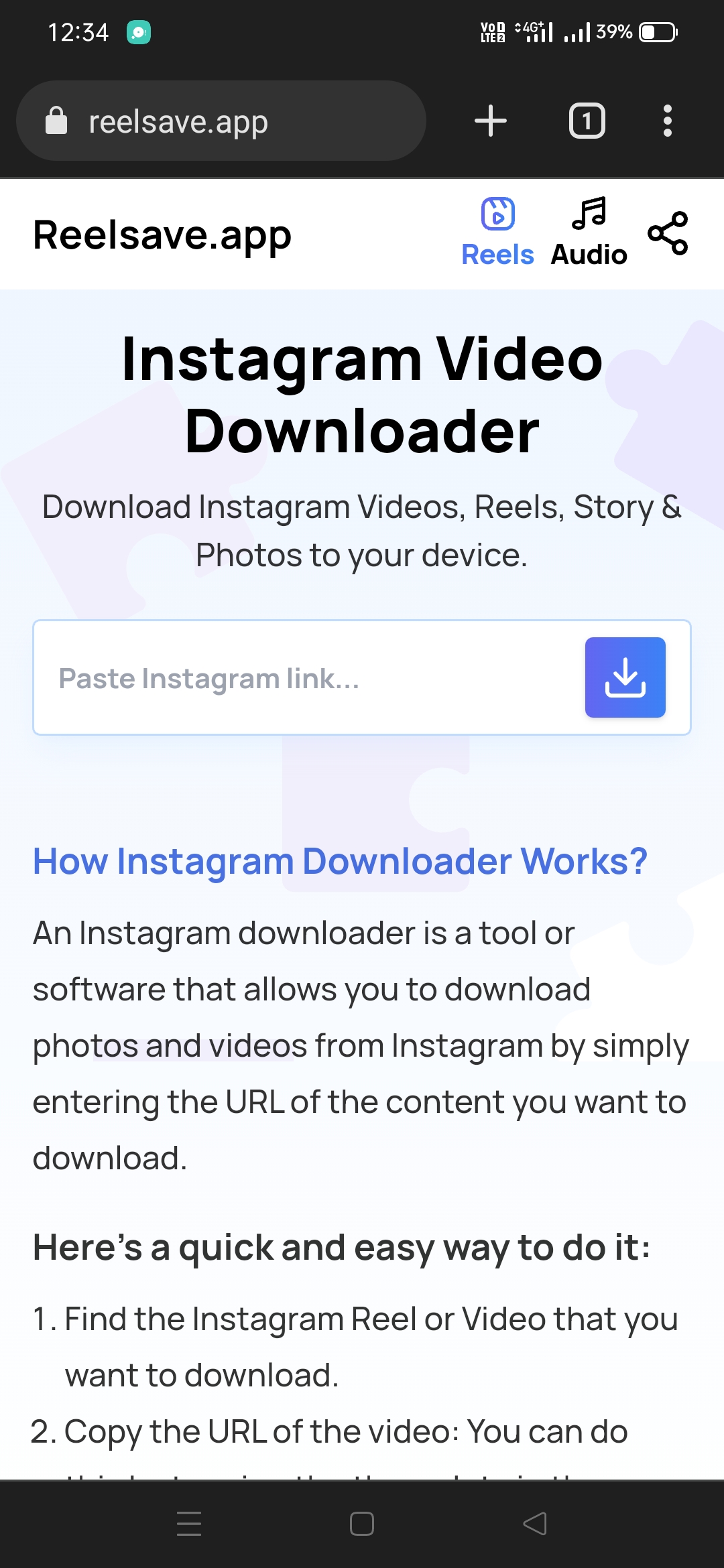 The Instagram reels video downloader offered by Reelsave is an online web-based tool, dedicated to provide quality service for downloading reel videos.
Quick & Easy: our tool has easy, fast and simplest interface that works flawlessly.
HD & Orginal quality: our reels downloader tool fetch videos/reels in orginal mp4/mp3 or highest available quality formats.
No Signup: We don't require any user registeration in order to use our services.
Minimum Ads: we had embedded limited number of ads so that user interaction is not affected.
Downloading Instagram Reels Videos on various devices:- iphone, Android or PC
Our Instagram reels downloader is compatible with all devices, wheather it is iphone, android or pc. The process of using and downloading reel video from reelsave.app is also same for all devices, while the process copying link from Instagram and location where the file is saved may vary depending upon Browser, Device type or Software version.
Pricing and Limits
We offer a completly free service with no limits or additonal costs. We does embed some ads that helps us to maintain our services.
Copyright & laws
It's important to note that downloading content from Instagram without the permission of the owner may violate the platform's terms of service and could result in your account being suspended or banned if you use that content without concern. You should only download content that you have permission to use or that is available under a Creative Commons license.